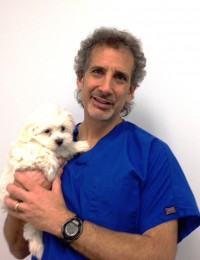 A native Long Islander, Dr. Andrew Weiss grew up in a close family of one sister, one brother. With his dad in the human medical field, he knew he wanted to help heal. He practiced on their family dog and realized right away his future. Dr. Weiss majored in Biology at Boston University and after graduation attended Ross University, School of Veterinary Medicine. Dr. Weiss carried out two terms as president before graduating in 1990.
After seven years in a busy Long Island practice Dr. Weiss was hired to manage a south Florida corporate veterinary practice as the medical director. He moved his family and settled in Coral Springs.
The passage to own and operate his own practice included many obstacles but devotion carried him through. His dream was founded in 2002 with the birth of Royal Palm Veterinary Hospital. Support from wife and partner Sonja R. Friedbauer continued to fuel the desire to provide the highest quality of medicine to all animals in need.
When not at the practice, Dr. Weiss loves watching and playing ice hockey, coaching ice hockey, listening to music and enjoying family time with wife, children and their new addition, Miss Pearl.