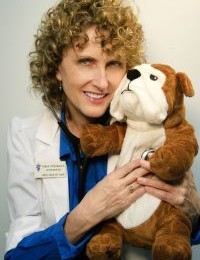 Dr. Sonja R. Friedbauer grew up in south Florida in a family of 4 children, numerous pets, and a mother who constantly fed any starving or injured creature. After learning that a career existed nurturing sick animals and preventing illness, there was never any doubt about her career goal.
Dr. Friedbauer obtained a microbiology degree from the University of Florida and then in 1991, graduated with honors from Ross University School of Veterinary Medicine.
After graduation, Dr. Friedbauer worked in several animal hospitals until an opportunity arose to work in one of the first Feline Exclusive Hospitals in the United States. Forest Hills Cat Hospital became home for the next five years.
With three children to raise and a love for the warmth of south Florida, moving back to Florida was inevitable.
The dream she shared with husband and partner Dr. Andrew Weiss to have their own hospital was finally realized in 2002 with support from friends and family.
When not at work caring for animals, Dr. Friedbauer is home busy raising and caring for their three children.
Dr. Sonja Friedbauer is a Certified Veterinary Acupuncturist. In addition to offering NAET, she also does Herbal Therapy.